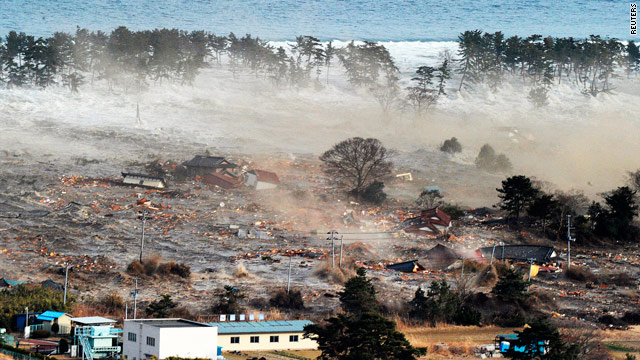 The headline this morning on CNN reads: "Massive Quake Hits Japan" (http://bit.ly/iaDQD2).  A tsunami has already rolled onto shore.  People are dying, but we are not powerless.  Let us pray for the people of Japan . . .
Wars, earthquakes, tsunamis, tornadoes, hurricanes, genocide, civil unrest, global upheaval; these are the content of our news stories more often than not.  We are constantly bombarded with accounts of global catastrophe and war.  We are told in the Gospels (Matt 24; Mark 13;Luke 21) that these things must come before the end.  That these are signs of the beginning pains of childbirth . . .
Today, when I first heard about what is happening in Japan, I couldn't shake one feeling.  This is all my fault! But before you go thinking that I have become some sort of megalomaniac, let me say this: it is all your fault too!
When God created all things that we now see, they were considered good in his eyes.  All creation was made in such a way that all life fit together in harmony, sustained by his grace and mercy.  And then Adam took a bite of forbidden fruit, and sin entered the world.  Were it just Adam's sin that counts we would have trouble enough in the world and have need of redemption.  Yet scripture tells us that none are righteous, and all have sinned and fallen short of God's glory (http://bible.us/Rom3.23.NIV84).  As a result of my sin all of creation suffers.  Do I mean by this that God is punishing Japan for sin? Absolutely not.  What I am saying is that the sin of all humanity from Adam to me has led to the groaning that we now see in all creation.
But there is hope.
Scripture goes on to say though we all fall short, God has made provision for us by sending his son, Jesus Christ, as an Atonement [at-one-ment] for sin (http://bible.us/Rom3.24.NIV84), reconciling us to God.  There is now no condemnation for those in Christ, and we look forward to his coming glory.
But what about the earthquakes, the floods, the devastation all around us?  What of those?
Scripture tells us how we should live in this present, fallen world in the light of Christ's victory over sin:
15 For you did not receive a spirit that makes you a slave again to fear, but you received the Spirit of sonship. And by him we cry, "Abba, Father."16 The Spirit himself testifies with our spirit that we are God's children.17 Now if we are children, then we are heirs–heirs of God and co‑heirs with Christ, if indeed we share in his sufferings in order that we may also share in his glory.

18 I consider that our present sufferings are not worth comparing with the glory that will be revealed in us.19 The creation waits in eager expectation for the sons of God to be revealed.20 For the creation was subjected to frustration, not by its own choice, but by the will of the one who subjected it, in hope

21 that the creation itself will be liberated from its bondage to decay and brought into the glorious freedom of the children of God.
22 We know that the whole creation has been groaning as in the pains of childbirth right up to the present time.23 Not only so, but we ourselves, who have the firstfruits of the Spirit, groan inwardly as we wait eagerly for our adoption as sons, the redemption of our bodies.24 For in this hope we were saved. But hope that is seen is no hope at all. Who hopes for what he already has?

25 But if we hope for what we do not yet have, we wait for it patiently. (http://bible.us/Rom8.15-25.NIV84)
We have not been given a spirit of fear but of sonship.  Do – Not – Be – Afraid! As all creation groans, we also groan inwardly in anticipation of Christ's return.  This is only possible through the Spirit, who lives in us and gives us new life.
So what is our response to tragedies like the one unfolding in Japan?
First, we must not fear.
Second, we must repent of our sin and ask God for his mercy and grace, which he gives abundantly.
Third, we must pray for those who are suffering, not just physically but also spiritually.
Fourth, give thanks to God that through his son Jesus all has been reconciled to him, and through him we have hope.
Let us pray . . .